Seeing Christ Through A Hurricane
It saddens my heart to hear and see the things that have been happening to the city of Houston during the hurricane. I have been lucky enough to live around Houston for 13 years. Since I have moved to San Francisco, I haven't visited often. Although I haven't been able to visit in a while, there is still a part of me that considers it home, I mean, I have a Texas flag hanging on my wall above my head as I sleep… While I heard and read about the things that the hurricane has been doing to the city, three things came to my mind; the bad, the good, the encouraging.
The Bad:
I wanted to start off by saying that I know that there are people who have it worse than what happened to my family, but I just wanted to share the things that have happened to us. When I first talked to my stepdad about the hurricane, he was prepared, but didn't seem too worried about it. We were emailing back and forth and after some time, he was telling me that the backyard was starting to flood. He also mentioned that if it kept raining for the next hour, the water would touch the back patio. I checked the weather and saw that the rain was not going to stop anytime soon. My mind was finally realizing how severe this is getting. One positive takeaway at this time was that he was able to see the water slowly approach the house so he was able to move some furniture and valuable things to higher ground. I eventually got word from my stepdad that he was going to spend the night at a neighbor's house who lives up the hill from him.
On Tuesday afternoon, I received a text message from my stepdad saying that the garage was under two feet of water, the house was under one foot of water, and the septic tank back flowed into the house. My mind initially started to think about the time I spent in that house. I thought about the times where I would play with my dogs, wrestling with my stepdad, and having birthday parties. Yes, the house is still there, but just imagining the smell and the house being under murky, brown water was sad to think about.
The Good:
Even though there were damages, there were some good things to keep in perspective. As I mentioned before, the house is still there, most of the valuables are dry and undamaged, and most importantly my stepdad and people I know are unharmed.
The Encouraging:
There were two huge takeaways that I saw from this situation. The first takeaway was a reminder of how unchanging and timeless God is. Things in this world are just that, things. Items can be destroyed for whatever reason, but we have a God that is always loving, gracious, powerful, knowing, and caring. Going to bed at night, I know that in the morning our God will be there and be the same.
The second takeaway I had was seeing the good in humanity. I still have friends from the Houston area so I see a lot of updates and shared articles on social media. I saw A LOT of people chipping in and helping each other out. It was pretty crazy and cool to see the amount of people grabbing their boats to go and help other people who may be stranded. I also didn't realize how many people owned boats, but that's beside the point.
One of the Houston Texans football players, JJ Watt, opened a relief fund originally set to reach $200,000. In the span of 6 days, at the time of writing, 149,114 people have helped raise almost 16 million dollars.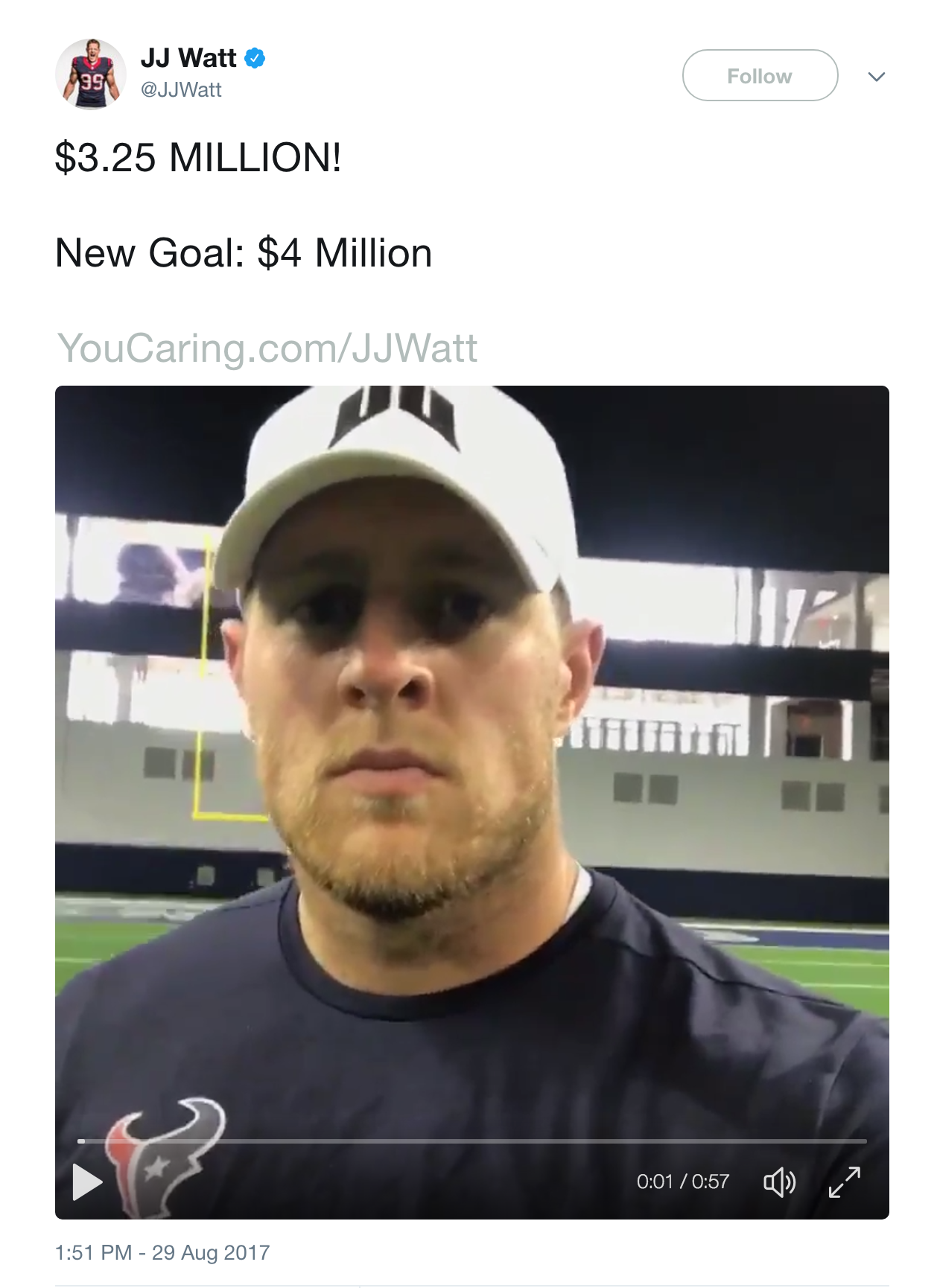 I talked to my stepdad earlier and he mentioned that some of his old coworkers heard what happened to his house and 6 of them came to help with repairs. Two of those helpers didn't even know my stepdad. There is still quite a bit of work that needs to be done, but my stepdad said that more people plan to come in the next couple of days and will continue to help with repairs.
Seeing how helpful people were made me question why all of these people, even those not from or around the Houston area want to help out. The only answer I could come up with is because we're all made with goodness in us. We are all created in God's image (Gen. 1:27) and we have a good, good God. There is more work that needs to be done for Houston, but I know that God will provide workers and helpers needed.